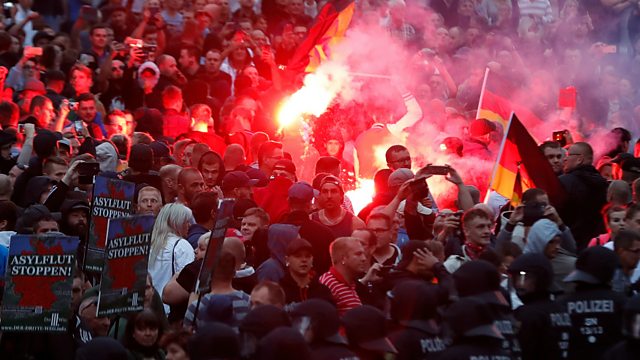 It is sad that the once-proud Free State (Freistaat) of Saxony has become synonymous with neo-Nazi violence.  Now the attention is focused on the city of Chemnitz, where the Nazis, together with their brethren - the Alternative for Germany (AfD) - seem to be in control.  At one time Saxony surpassed its rival Prussia as an industrial powerhouse.  Chemnitz was known for its highly-skilled workforce and technical innovation.  Even today the Technische Universität in Chemnitz attracts students from abroad - although, increasingly, anyone who looks "foreign" would think twice about walking around the city. But the fortunes of Chemnitz - and Saxony - turned following the end of the Second World War.  The industrial infrastructure was dismantled and transferred to the Soviet Union.  The city and region was sealed off from the West, with little exposure to modern business practices or outsiders.  Sixty years of totalitarian rule has left its mark on Chemnitz and Saxony - even now, nearly thirty years after "die Wende". 
The writer and former East German athlete Ines Geipel locates the problem on the failure of Saxony to come to terms with its Stalinist past: 
Die mühselige Diskussion, ob die DDR nun ein Unrechtsstaat war oder nicht, sollte vielleicht den sozialen Frieden wahren, aber am Ende hat sich die Lesart durchgesetzt: Der Osten war nur ein wenig schmuddelig. Nein, diese Frivolität im Umgang mit der DDR-Diktatur muss aufgebrochen werden. Was wir jetzt in Chemnitz sehen, ist das 1968 des Ostens. Es geht aber nicht ins Offene, sondern ins Dunkle. Der Osten braucht nicht mehr Geld, sondern ein gutes Modell. Mit Trabi-Safari, FKK, Schulspeisung und Ampelmännchen kommen wir halt nicht weiter.
And this failure to deal with its Stalinist past dovetails with the failure to acknowledge the part Saxony played during the Third Reich.  The people were told they were all "anti-fascist victims" of western fascists.  The perpetrators (Täter) were all on the other side (of the Schutzmauer ) :
Das, was der Westen nach 1945 geschafft hat – stark verzögert und mit großer Anstrengung, aber immerhin sich eine politische Lebenshaut zu bauen, was wir antitotalitären Konsens nennen und damit auch die Anerkennung des Holocaust und seiner Opfer meinen –, das gibt es im Osten nicht. Dort gibt es ein heilloses geistiges Schreddersystem, wo jeder meinen und tun kann, was er will. Täter? Gab es nicht. Opfer? Nie gesehen. Auch aus dieser politischen Leere heraus entlädt sich letztlich jetzt die Gewalt.
Until the population is forced to deal with its past (Vergangenheitsbewältigung) it will remain a stunted rump-appendage on the Federal Republic.